There are many kinds of calendars in our life, and every year is different. It is time to make the new years' calendar.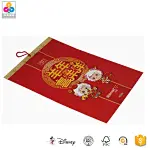 Digital Printing, Screen Printing, Offset Printing, Flexographic Printing, Letterpress Printing, Gravure Printing, Transfer Printing etc.
The biggest difference between toy books and paper or paper art or three-dimensional greeting cards and other paper art decoration or paper toy color is the essence and characteristics of the book. As far as the history of toy books is concerned, toy books should be a special classification in children's literature publications, more precisely an extension or classification of "funny" or "creative upgrades" in picture books.